In this blogpost,I will be talking about diabetic control.2 Best Practices for Glucose control.
INTRODUCTION
Diabetes is a group of metabolic diseases characterized by high blood sugar (glucose) levels.
This is as a result of defects in insulin secretion, or its action, or both.
Diabetes mellitus, commonly referred to as diabetes was first identified as a disease associated with "sweet urine," and excessive muscle loss in the ancient world.
High levels of blood glucose (hyperglycemia) lead to spillage of glucose into the urine.
Hence the term sweet urine.
Diet is important in the control of diabetes.Your diet should be consistent with your personal management plan.This is the plan with your dietitian during your education about diabetes and nutrition.
WHAT IS DIABETES
Diabetes is a disease in which the body cannot properly produce or respond to insulin.
This is the hormone that regulates blood sugar.
Diabetes affects more than 400 million people worldwide.
Similaly, it is a leading cause of death, according to the International Diabetes Federation.
The two most common forms are.
type 1 (formerly called juvenile diabetes).
And type 2.diabetes.
In type 1 diabetes, the body does not produce any insulin.
In type 2 diabetes, the body does not produce or use insulin well.
Without enough insulin,however, the body cannot use glucose for fuel
As a result, fat is broken down and used instead.
Diabetes is the most common disease that affects the kidneys.It can however be treated by diet and exercise .But sometimes ,patients may need medications and insulin shots .
Proper diabetic control and prevention however involves foods and supplement.
In addition to a healthy lifestyle, diabetic control and treatments can help you live a normal life for many years.
WHAT ARE THE BEST OPTIONS FOR DIABETIC CONTROL
The best way for proper diabetic control,are being healthy and keeping your blood sugar levels under control.
This can be done through eating the right food and supplements, exercising regularly and monitoring your blood sugar levels.
Talk to your doctor about what you can do to keep sugars and your blood pressure down.
WHAT ARE THE BEST FOODS FOR DIABETIC CONTROL
Being diabetic doesn't mean you have to cut out all the good food.
It just means you need to eat smart and pay attention to what goes into your body.
According to medicalnewstoday.com find below the list of best foods for diabetic control
Whole wheat bread.
Fruits.
Sweet potatoes and yams.
Oatmeal and oat bran.
Nuts.
Legumes.
Garlic.
Fatty fish.
To know the exact food to eat in each of the brand above,visit this detailed blogpost.
The post explains in details ,the best foods for diabetic control
TYPE 2 DIABETIC FOOD LIST
A healthy, balanced diet is an important part of managing prediabetes .
And at the same time,type 2 diabetes.
Being mindful of carbohydrate intake, eating smaller meals on a regular basis.
Also selecting healthy, nutrient-dense options can all help a person in diabetic control.according to health experts.Eating a well-balanced diet can help you manage type 2 diabetes.At the same time,it can keep prediabetes from progressing to type 2 diabetes.
Making a grocery list of healthy foods is number one strategy that can assist diabetics in staying healthy.
Secondly, people with type 2 diabetes can manage their condition by eating healthy.
Forinstance,eating satisfying foods that meet their individual nutritional needs.
The American Diabetes Association recommends that people always read a product's nutrition facts label. It is the most accurate method of determining the amount of carbohydrate and calories in a food.
Find below, a list of type 2 diabetic food list
Vegetables. Vegetables form the basis of a healthy diet. …
Beans and legumes. Beans, lentils, and other pulses are a great source of dietary fiber and protein. …
Fruit. …
Whole grains. …
Dairy. …
Meat. …
Dressings, dips, spices, and condiments. …
Dessert foods.
FOODS TO AVOID WITH TYPE 2 DIABETES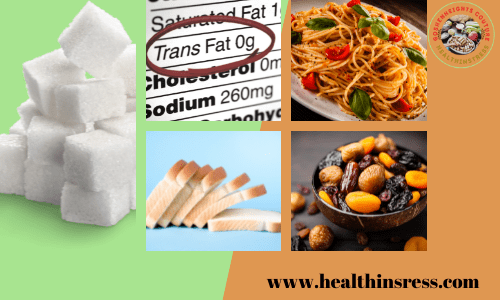 Type 2 diabetes is a growing health problem.Similarly, the number of people suffering from this condition is increasing everyday.
It is estimated that more than 5 million Americans have Type 2 diabetes.Unfortunately however,most don't know it.
This is primarily because of how common diabetes is becoming.
The foods that trigger or worsen the condition are also becoming more widespread.
This section of the article will give you a detailed list of the most common foods to avoid with Type 2 diabetes,
Sugar-sweetened beverages. Sugary beverages are the worst drink choice for someone with diabetes. …
Trans fats. Artificial trans fats are extremely unhealthy. …
White bread, rice, and pasta. …
Fruit-flavored yogurt. …
Sweetened breakfast cereals. …
Flavored coffee drinks. …
Honey, agave nectar, and maple syrup. …
Dried fruit.
SUPPLEMENTS TO LOWER BLOOD SUGAR NATURALLY
SUPPLEMENTS TO LOWER BLOOD SUGAR NATURALLY
Many people with diabetes in the United States take dietary supplements.
Others however take alternative medicine products.Balancing the uptake and utilisation of glucose is one of the most important physiological processes of the body.
This is because glucose is a key fuel.
For instance,If too little glucose is available at any given time, it undermines health and vitality.This is as a result of compromising cellular energy production;.
Too much glucose on the other hand can cause several problems.
First,it can react with and harm body tissues.
Secondly, disturb the body's natural fat storage systems; inducing unhealthy weight gain.Finally, increasing risk of cardiovascular and other chronic disease .
WHY TAKE SUPPLEMENTS FOR DIABETIC CONTROL?
WHY TAKE SUPPLEMENTS FOR DIABETIC CONTROL?
Three reasons.
To help support healthy glucose levels in the body.
Ensure normal pancreatic function for healthy insulin levels.
Maintain insulin activity.
According to the International Diabetes Federation (IDF), the proportion of people with type 2 diabetes is increasing in most countries.
Statistics from the IDF – Africa Region, show the current prevalence and projected increase of prediabetes and diabetes amongst adults in Africa.
Currently, 60% of adults with diabetes do not know that they have it.
As a result of this, the IDF Africa Region is one with the highest percentage of undiagnosed people . To address this epidemic, the NeoLife Scientific Advisory Board has created a safe, drug free, blood glucose support product.
This is a unique and exclusive combination of the bioactive botanicals: like cinnamon, turmeric and curcumin. In addition to this ,is chromium and alpha-lipoic acid.
These combinations deliver broad, evidence-based support for normal healthy glucose balance.
WHY NEOLIFE BOTANICAL BALANCE FOR DIABETIC CONTROL
NeoLife's exclusive Botanical Healthy Blend provides powerful whole-food botanical ingredients; cinnamon, curcumin and turmeric
Proven with leading-edge modern clinical science to support healthy glucose levels.
■ Cassia cinnamon isa proven effective form for supporting healthy glucose metabolism and healthy blood glucose levels.
In addition ,it supports normal insulin production and sensitivity promoting cellular glucose uptake.
Curcumin is the most bioactive phytonutrient component of turmeric.
Similarly,It provides antioxidants and also help relieve inflammation.
■ Tumeric is also an antioxidant phytonutrient . At the same time,It provides a broad spectrum of curcuminoids and helps to balance inflammation.
Chromium helps the body metabolise carbohydrates and fats.Similarly,it also provides support for healthy glucose metabolism.
Most importantly,It is a critical co-factor with insulin. For instance,it helps maintain normal cellular responsiveness.
CONCLUSION
In conclusion ,the two best practices for diabetic control are diet and supplements.
Throughout our lives maintaining healthy, effective glucose balance is vital.
For an increasing portion of people, the ability to maintain glucose balance and control has been compromised.
I hope that you have got some tips from this blog post on diabetic control using food and supplements.
Apart from diets and supplement ,it is important to go for routine sugar test.This is to ensure that your blood sugar levels is within the normal ranges.
Please consult your physician for this.
Is there any other way of diabetic control that you know off?
dont hesitate to drop your comments below. Click below to follow me on pinterest for more tips