Some people get infected by a virus and they get sick and even die.
Other people get the same infection but they still remain well.
Two different reactions to the same virus.
Why?
The answer lies in the strength of the immune system.
This blog post will give you information on Natural remedies to strengthen your immune system.
WHAT EXACTLY ARE IMMUNE SYSTEMS?
Not everybody is in the medical area.
A lot of times people just keep hearing the name "immune system ".
Ask them however what it really means ,A lot of people have no idea.
The IMMUNE system is made up of different components in our bodies that actually work together.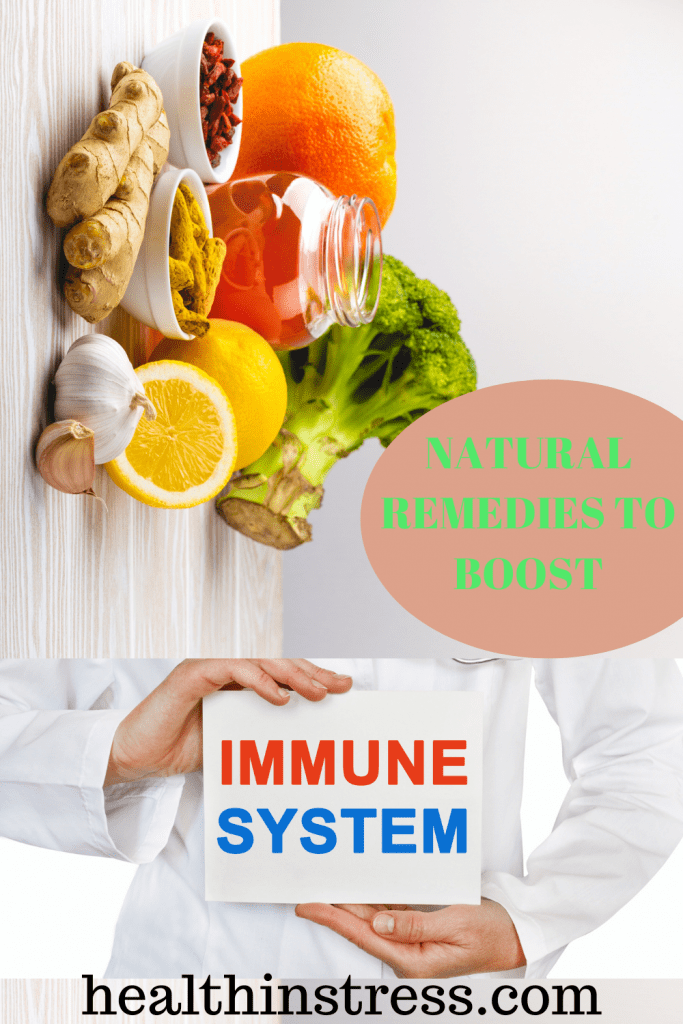 These components are responsible for fighting invaders.
Invaders can be bacteria,viruses, or fungal.
These immune components are made up of different cells ,proteins and organs. It is good to know that there are two kinds of immune system
1 innate immune system
2.acquired immune system.
HOW DOES OUR IMMUNE SYSTEM WORK?
We are all born with the innate immune system.
The cells of this system are called Phagocytes.
These normally attack invaders by engulfing it and then destroying it.
The acquired immune system develops as we grow.
This system protects the body by producing antibodies against invaders. These cells that produce the antibodies are called B lymphocytes.
Organs that produce all these immune cells are located in different parts of the body.
The 2 basic immune system can be divided into 5 active parts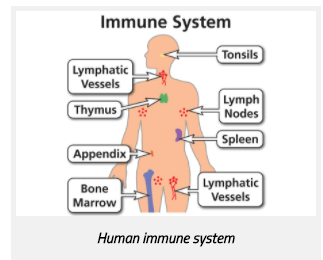 White blood cells
Antibodies
The component system
The lymphatic system
The spleen.
THE thymus
The bone marrow
HOW CAN I BOOST MY IMMUNE SYSTEM NATURALLY
Boosting our immune system naturally is not an event.
It is more of developing a healthy lifestyle. A lifestyle that keeps our immune system organs healthy.
When these organs are healthy, they will quickly produce the needed cells when there is an invader.
The number one way to boost your immune system naturally is to :
REDUCE OR COMPLETLY ELIMINATE STRESS
I know that is easier said than done.
Especially in our world today where everything happening around you tends towards stressing you. But seriously, drastically reducing your stress levels plays a great role in improving your immune response.
Your immune system and every other organs in your body will always work better when we follow certain laid down strategies.
Having an exercise routine is a positive development.
This will help you to maintain a healthy weight..
Taking excessive alcohol or smoking has a negative effect on most essential organs of our body.
This will ultimately affect your ability to fight off infections.
If you must take alkohol,a glass of red wine is a better deal..I normally take a glass of red wine 2 to 3 times a week ..
And most importantly,try getting enough hours of sleep everyday.
As an adult,it is best to get at least 7 or more hours of sleep.
A certain research study has shown a relationship between hours of sleep and susceptibility to the common cold.
Getting enough rest has been shown to strengthen natural immunity
IMMUNE BOOSTING FOOD FOR ADULTS AND CHILDREN.
There are a lot of food out there that are said to help boost our immune response to infections.
But the first thing to do is to stay hydrated.
When we dont have enough water in our system, important organs do not function well.
For instance when our kidneys are not functioning well due to dehydration, we will fall ill.
It is advisable to take enough water daily to avoid dehydration
I never forget to carry my water bottle in my bag whenever I go out.I sip my water intermittently irrespective of whether I feel thirsty or not.
This keeps me hydrated the whole day.
Now that we are settled with that ,here are some
IMMUNE BOOSTING FOOD FOR ADULT AND CHILDREN:
There are a lot of food out there that can boost our immunity. That is because they contain important minerals and vitamins.
SHELFISH
Shellfish and most of its varieties is one of the best food that can boost our immunity.
This is because of its high zinc content. Zinc mineral doesn't have as much popularity as the other vitamins or minerals.
Zinc however is very important for our immune cells to function as it should normally. The other varieties of shellfish in include:
Lobsters
Crap
Oyster.
CHICKEN AND TURKEY
This is food that is common to almost everybody.
But did you know that they both contain high concentrations of vitamin B6. Chicken bones also contain high concentrations of chondroitin and gelatin. Try taking some chicken soup when you are down with the cold and you will immediately see some good improvement.
Vitamin B6 is very important in the formation of new red blood cells and reduction of inflammation in our body.
On the other hand gelatin and chondroitin help in improving our immunity system.
NORMAL AND CITRUS FRUITS

A lot of fruits are loaded with vitamin C.
Vitamin C has been known to be a wonderful vitamin for the common cold.
It is known to play a role in the production of white blood cells. And as we know and have read above, white blood cells are the solders of our immune system.
Papaya and kiwi contain high concentrations of vitamin C.
Apart from that, papaya contains an enzyme called papain that is very effective in reducing inflammations in the body.
Taking these fruits everyday also adds to your blood , essential elements like potassium ,magnesium ,vitamin K and folate.
All of this add up to improve your immunity naturally .
Examples of citrus fruits with high vitamin C contact include: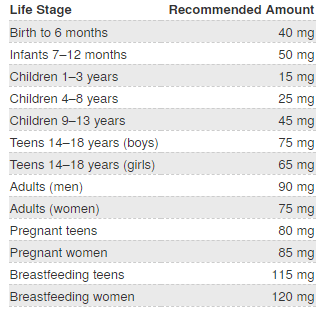 Grapes
Lemon
Lime
Tangerine
other fruite
broccoli
strawberries
tomatoes
I took a glass of warm lemon every morning. That is the start of my daily dose of vitamin C. I also take some vitamin C supplements after a good meal. Because of its antioxidant effect in the body it is important that we try to meet The daily doses of vitamin C that our body needs. Especially the recommended doses as shown in the diagram above
SPICY FOODS
Ginger, garlic and turmeric also have anti inflammatory effects on the body. Ginger has a way of reducing chronic pain.
On the other hand turmeric contains a substance called Curcumin which according to research , has been shown to boost our immune systems.
Garlic is one of my best spicy food. There is nothing I cook really without garlic and onions.
When garlic is chewed or chopped it releases a substance called allicin . This substance gives garlic its immune boosting properties.
The simple garlic has been shown to be particularly active against viral infections.
If you have not been doing so, start using garlic to spice up your meals. And at the same time boost your immune system naturally.
GREENS

Spinach and broccoli are also packed with high contents of anti-oxidants and beta carotene.
If you have to cook this vegetables it is better you don't cook them more than 5 minutes. This is so that the immune boosting nutrients are retained.
Other immune boosting foods for adults and children include almond seeds ,sunflower seed and the simple yogurt
According to healthline.com" It is better to Look for yogurts that have the phrase "live and active cultures" printed on the label, like Greek yogurt. These cultures may stimulate your immune system to help fight diseases."
Yogurt also contains the basic vitamin D that is also very important in boosting our immune system
DRINKS THAT BOOST YOUR IMMUNE SYSTEM
Essential nutrient rich fruits can be combined to make delicious smoothies that can boost our immune system. You can drink these smoothies first thing in the morning.
Here are several fruit combinations drinks or smoothies that can boost your immune system
Water lemon juice. check out Dassana's recipe for watermelon mint juice
Strawberry and mango smoothie. Here is feelgoodfoodies recipie

Strawberry and kiwi drink. Check out myrecipes.com

Tomatoes juce
Apple carrot beet ginger juice by minimalistbaker
Orange carrot apple juice by theurbanumbrella.com
NATURAL SUPPLEMENTS THAT BOOST IMMUNE SYSTEM
Research suggests that diets with high levels of carotenoids, flavonoids and cruciferous vegetables will help to combat oxidative damage to cells .
They also offer significant benefits against many major threats to our general health.
These nutrients, termed phytonutrients, are most effective when several types are consumed together.
Only very few people eat adequate amounts of the fruits and vegetables which would provide these carotenoids, flavonoids and cruciferous constituents.
It is also apparent that some consumers are not aware of how many of each nutrient to consume on a daily basis.
There are a lot of supplements out there to try .But I will only mention what I take.
I have been taking Neolife Phyto defence for 5 years now.
Each daily PhytoDefence pack contains 3 capsules of Carotenoid Complex, 2 tablets of Flavonoid Complex and 1 tablet of Cruciferous Plus
Watch the video below .to understand the power of this 3 components
HOW CAN YOU CHECK YOUR IMMUNE SYSTEM
Immune fighting proteins are called immunoglobulins.
To check your immune system, you need to measure 3 basic components in your blood. these include
Immunoglobulins
bloodcells
immune system cells
If the numbers are abnormal ,it can indicate an abnormal immune system. These test can be done in any standard laboratory
SIGNS OF A WEAK IMMUNE SYSTEM
According to Pennmedicine.com,here are six signs that lets you know that you have a weak immune system
High stress level
Susceptibility to cold
Frequent diarrhea, gas or constipation
Slow healing wounds
Frequent infections
frequent tiredness
CONCLUSION
Latest research findings on on to boost your immune system can be fund here
Watching what you eat and having a healthy lifestyle are important natural remedies to strengthen your immune system.A healthy lifestyle includes.
drinking enough water daily,
Having an exercise routine
Watching your sugar intake
Having enough hours of sleep
Reducing or completely eliminating stress
Taking natural vitamins and supplements
So is there any other thing you are doing that I did not mention here? Do not hesitate to comment below.
Dont forget to follow me on pinterest